End user terms
When you log in for the first time, or some changes took place in terms, the End user terms page opens to read and accept/decline. The page consists of the following elements:
Conditions to get acquainted with;
Subscribe to newsletters checkbox;
Decline and Accept buttons.
Subscribe to newsletters
When the Subscribe to newsletters checkbox is ticked, and you confirm End user terms, you agree to receive release notes, surveys and other helpful information from the Mobitru platform.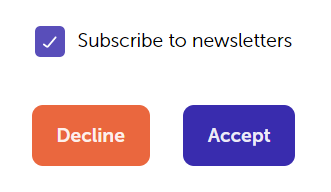 To unsubscribe from newsletters, you need to send an email to support@mobitru.com.
Accept or Decline the terms
When you choose Accept, you are redirected to the platform. The Release notes window is shown to present the latest updates. After closing it, you find yourself in the Devices tab.
If you have declined the terms, the Mobitru landing page will open for you.
End user terms in the footer
If you want to look through the End user terms text after accepting them, you can find the link in the footer. In addition to that, the Privacy policy and Cookie policy links are there.